We did it! A great performance at the St Joseph's School Summer Fair, in sweltering temperatures at lunchtime. Thanks to a great sound rig by Peter Rose, the choir was heard over the loudspeakers throughout the huge playing fields. A lovely group of children joined us for the finale which made it even more special.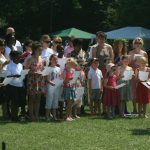 There are two independent reports of "goose bumps" among the audience. You wowed them all and held on to the end, despite the rather noisy atmosphere in the field. Onwards and upwards everyone, really well done. I'm so very proud of your achievement. A huge thank you to Dave (May's husband) who videoed the performance.
Pat yourselves on the back for a job well done.